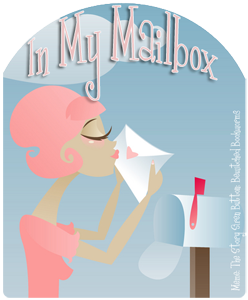 In My Mailbox is a weekly meme hosted by
The Story Siren
, where we share what books we received this week. The hope is that you will share in the comment section and let us know what you received in books this week. Anyone can participate. You can share what you won in a giveaway, what you purchased for yourself, what you received as a gift, etc.
Books I received this week:
I just purchased this one today. Wanted to read it before I see the movie.
ONE DAY
by David Nicholls
It's 1988 and Dexter Mayhew and Emma Morley have only just met. But after only one day together, they cannot stop thinking about one another. Over twenty years, snapshots of that relationship are revealed on the same day—July 15th—of each year. Dex and Em face squabbles and fights, hopes and missed opportunities, laughter and tears. And as the true meaning of this one cruc...more
Published May 31st 2011 by Knopf Doubleday Publishing Group (first published August 28th 2009)
I just purchased book one because I won book two in the series.
Is a little respect too much to ask at a funeral? Apparently it is for Destiny May. Clay Gallagher is built like a small mountain and far more vocal than is fitting when he shows up late to her mother's "going away party." When it turns out he's not even at the right funeral, Destiny demands retribution in the form of an escape from the day's dreary proce...more
Published December 17th 2010 by White Rose Publishing


Kylie's Kiss
On a dare, Kylie Matthews lands smack in the middle of Solomon's Gate-Castle Creek's new Christian dating agency-and she finds herself revealing exactly what she's waiting for in a relationship: "The kiss that steals my breath away."
What she doesn't reveal is her lack of self-esteem or her irrational reaction to facial disfigurement. Neither is applicable to her
...more
Published April 29th 2011 by Pelican Ventures