I feel very inspired since I did a review on The Grandmother's Bible/Daily Devotional.
Here is a new meme I have come up with. You will choose a scripture from the Bible and tell us how you will apply it to your daily life by posting it on you blog with this meme. Calling it Mamaw's Sunday Devotional. You could even add your scripture to the header of your blog, optional, for the week as a reminder of your devotion.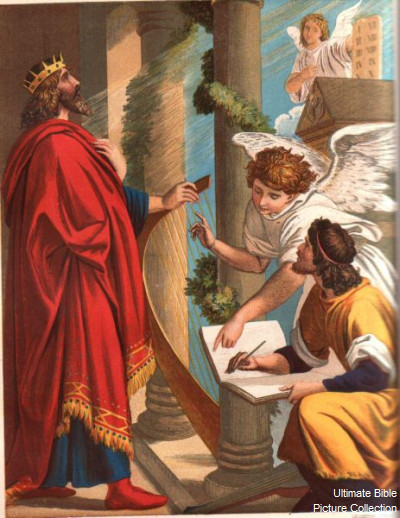 Psalmist David

My Scripture for the week:
Psalm 46:10 "Be still, and know that I am God,...." (King James Version)

How I can apply this scripture to my daily life this week:
Whenever I feel stressed or overwhelmed I will repeat this verse until I feel peace.
I chose this scripture because it has been the promise I have called on most of my adult life. Although the problem may still be present I would feel a peace and be able to endure with patience.

Notes on the Bible by Albert Barnes
Be still - The word used here - from רפה râphâh - means properly to cast down; to let fall; to let hang down; then, to be relaxed, slackened, especially the hands: It is also employed in the sense of not making an effort; not putting forth exertion; and then would express the idea of leaving matters with God, or of being without anxiety about the issue. Compare Exodus 14:13, "Stand still, and see the salvation of God." In this place the word seems to be used as meaning that there was to be no anxiety; that there was to be a calm, confiding, trustful state of mind in view of the displays of the divine presence and power. The mind was to be calm, in view of the fact that God had interposed, and had shown that he was able to defend his people when surrounded by dangers. If this the divine interposition when Jerusalem was threatened by the armies of the Assyrians under Sennacherib, the force and beauty of the expression will be most clearly seen.