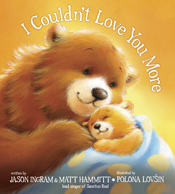 About Book
In the same manner as touching picture books like bestsellers Let Me Hold You Longer and Love You Forever, I Couldn't Love You More tells a sweet, loving, yet powerful message: I couldn't love you more, but there is someone who does. Through the unique relationship of adorable animals, the book shares that Christ is always with you and he loves you more than you can imagine. This engaging picture book combines lovable and irresistible images with the lyrics from the song (co-written by Jason Ingram and Matt Hammitt). Matt is lead vocalist for Sanctus Real, a Grammy-nominated Christian rock band. The song is on Hammitt's latest album, Every Fallen Tear. When Matt and his wife, Sarah, were halfway through her pregnancy, they discovered their son would be born with Hypoplastic Left Heart Syndrome (HLHS), a rare congenital defect. Matt and Sarah's son, Bowen, was born on 9/9/10 and received a huge following through the Hammitt's blog (bowensheart.com), K-LOVE, and ABC News. A portion of the proceeds from the book goes to the foundation the Hammitts' have started to help parents with children who have this heart condition.
Published by
TYNDALE HOUSE PUBLISHING
About Matt
Matt Hammitt is the lead singer and a founding member of the band Sanctus Real. Over the past decade, the Grammy nominated, Dove Award–winning group has released five albums and has topped the Christian radio charts with fourteen No. 1 and Top 5 radio hits. In 2010, Matt and his wife, Sarah, found out they were expecting their third child. Already the parents of two young daughters, Emmerson and Claire, they were looking forward to an ultrasound that would reveal whether they were having a boy or a girl. "We found out it was a boy, and we were all celebrating," Matt recalls. "But only a few minutes later the doctor came in and told us that things weren't right, that half of the baby's heart wasn't developed. At that time, they didn't think he would survive." Diagnosed with Hypoplastic left heart syndrome, little Bowen, whose name means "small, victorious one," defied the odds and survived. But it hasn't been an easy road for Matt and his family. Following Bowen's birth, Matt and Sarah watched their newborn son endure two open-heart surgeries, and they spent more than three months by his bedside at Mott Children's Hospital in Ann Arbor, Michigan. Matt and Sarah have shared the pain, as well as the joy, of their journey with others through their blog, Bowensheart.com, which has received more than one million hits to date. Sarah says, "God clearly has His hand in all of this. Our family has been called to walk through this, and we will do our best, even though it's going to be really rough at times." "Everything I've watched happen in the hospital—all the pain I've felt—is deepening my faith, strengthening my marriage, and molding my character," Matt says. "Out of what appeared to be a well of emptiness has flowed a fountain of purpose." Matt's album Every Falling Tear, released in 2011, was born out of the heart of a father wrestling with his pain but buoyed by his faith and his love for his family. I Couldn't Love You More is one of the songs on the album. It expresses a parent's desire to share Christ's unconditional love with his child. A portion of the proceeds from both Matt's album and this book will be given to support the Whole Hearts Foundation, a 501(c)(3) nonprofit organization founded by the Hammitts that is dedicated to helping families with children suffering from congenital heart defects. Matt says, "We've met so many families like us whose children are suffering, and they are looking for hope. It has become our mission to help them find it."
I am so moved by this story. The illustrations are darling.
I have been through a similar situation with my little grandson that passed away when he was fifteen months old. He spent the first nine months of his precious life in the hospital. The miracle we experienced was getting to share those fifteen months of his short life with him. He smiled and laughed all the time. It is the hardest thing for a family to go through when you have a sick child.
Love and cherish your children! Have you told your child you love them today?
What are some ways you can actually show them how much you love them?
I have fourteen grandchildren with one more due in July. The most fun I have with my kids and grandkids are when we are all together at the same time.
Do you have something special you do with your child?
How do you share GOD'S love with them?
When my grandchildren stay over we have a special prayer time before we go to bed when we are all tucked in. Some on air mattresses some in the bed with me. They all know how much GOD loves them. Some of them remember when their young cousin passed away and make comments about him being in Heaven with God not suffering anymore.
Don't let all of this make you think this is a sad story because it isn't. This is a story about MIRACLES and LOVE.
I rated this book a 5 out of 5.
Disclosure:
I received a free copy of this book from Tyndale for review. I was in no way compensated for this review. It is my own opinion.
FOR A
FREE COPY OF THIS BOOK.
Giveaway May 17-24,
will announce lucky winner on May 25.
JUST LEAVE A COMMENT ABOUT THIS POST.

FOLLOW MY BLOG AND PUT IN THE COMMENT HOW YOU FOLLOW.

LEAVE YOUR EMAIL IN THE COMMENT.

PUT IT ALL IN ONE COMMENT IF YOU LIKE.
IT IS JUST THAT SIMPLE. IF YOU WIN I WILL MAIL YOU A CERTIFICATE THAT YOU CAN FILL OUT AND SEND TO THE PUBLISHER OR REDEEM IT A YOUR FAVORITE BOOKSTORE FOR YOUR FREE COPY.