This isn't your typical contest the author has sent out ten copies of
A Hidden Truth
, her latest release set in the
Amana Colonies
. Their are eleven groups. She will be doing some blogs to give updates and we'll be able to check comments on the contest page to see how much progress the "sheep" is making along the journey.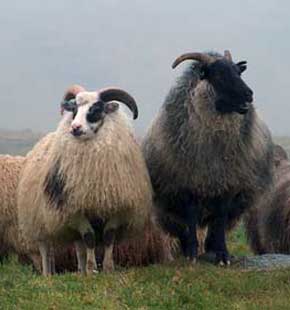 My Group is the Icelandic Group.
I will be the first to read and pass on the book. It will be up to the next person to pass on the book to whomever they like and so on, building our group/Flock.
Here is an image of the Icelandic Sheep. click on image for info.
The Flocks(groups )are named: Cotswold, Cambridge, Lincoln, White Suffolk, Ryeland, Rhoen, American Romney,
Icelandic
, Hampshire, Shropshire, Australian Merino.
If you're counting, that's eleven sheep, but the Australian Merino escaped to Australia and will be our only sheep traveling outside the United States.
If you're interested in seeing a picture of each breed, you can go to: http://www.sheep101.info/breeds.html to learn more.
On December 15, she'll conduct a drawing
from the five flocks that have the most readers. One person from each of those flocks will receive one of these cute little sheep (not the live ones—the stuffed animals). So read quickly, post your information, and send your "sheep" along the way.
About Book
When Karlina Richter finds out that a new shepherd will be sent to East Amana, she fears she'll no longer be able to help her father with the sheep. She'll be relegated back to kitchen work, a job she dislikes. Her fears increase when Anton Becker arrives and shows little interest in the flock–or in divulging why he's been sent to East. Dare she trust Anton to help her father, or is he keeping secrets that will impact them all?
After learning that her father will be transferred from Cincinnati to a job in Texas, Dovie Cates decides she wants to visit the Amana Colonies, where her mother spent her formative years. She writes to relatives still living in the Colonies and is invited to spend some time there. Soon after her arrival, Dovie meets Berndt, the handsome young man who delivers bread to the kitchen house each day. But when Dovie begins to ask questions about her mother's past, no one seems willing to tell her anything, so Dovie decides to take matters into her own hands. Will her decision spell disaster for her future with Berndt?
Buy this book online!
Amazon
,
Barnes&Noble
,
CBD
ISBN-13: 978-0764210006
Published by Bethany House Publishers
About Judith
Although born and reared in a small suburb of Pittsburgh, Pennsylvania, Judy moved to Kansas at the age of seventeen and has considered the sunflower state 'home' ever since. She currently lives in Topeka. She enjoys reading, traveling, researching history, and Bible study.
Writing Christian fiction is Judy's second career. For many years she worked as a legal assistant in law firms and later worked in government law offices. She has retired from legal work in order to write fulltime —a vocation she considers both a ministry and a blessing.
Judy has authored or co-authored more than twenty-five books since she began writing in 1996. She is an award-winning author whose avid research and love for history are reflected in her novels, several of which have placed in the CBA and ECPA top ten lists. It is her deep desire to point readers to the love and grace of Jesus.
Author's website:
http://judithmccoymiller.com/
My Thoughts
1892, Over-the-Rhine, Cincinnati, Ohio
Dovie Cates informs her father that she did not wish to move to Texas with him. She wishes to visit her mother's cousin in East Amana. Since the recent death of her mother she has become obsessed with wanting to learn more about her mother's past life in East Amana. Her father gives her permission to visit Cousin Louise, in the Amana Colonies but just until he can find them a house in Texas. So she sends a letter requesting a visit to her Cousin Louise. When Dovie arrives in East Amana she is not sure if she is welcome. Mainly because she did not wait for a return answer from Cousin Louise so her arrival was a surprise.
When she tries to work information about her mother from Cousin Louise she is given just basic information she already knew. So Dovie assumed Cousin Louise must be hiding something about her mother's past.
Dovie was determined to find out what that something was.
While she is visiting in East Amana she helps in one of several group kitchens in East Amana. The one she is working in is in Cousin Louise's home. Cousin Louise is the kitchen boss of this group kitchen. She thinks this will give her a better chance of talking to Cousin Louise about her mother.
Cousin Louise has a daughter, Karlina that is about the same age as Dovie and they have become friends. Karlina helps her father with the community sheep. It is uncommon for a girl to work with the sheep. Since her father's failing health the Elders have assigned a young man, Anton to help with the sheep. He has never worked with sheep before and Karlina will help her father to train the young man. Anton seems to have no interest or patience with the sheep.
Dovie meets a local young man, Berndt that delivers bakery goods to the community kitchens. He has become very smitten with Dovie and she him. He invites her to go ice skating with him at a near by pond. They end up going ice skating several times with Karlina and Anton. But Dovie seems to be more focused on finding information about her mother's life in East Amana and Karlina is more interested in caring for the sheep.
Just what is it that Dovie expects to find out about her mother? Just what is her relationship with Berndt?
Will Karlina trust Anton to care for her precious sheep? Does Anton have a past to hide? Will he learn to care for the sheep with love and patience?
I saw Dovie as a manipulitive young woman. She broke rules, and went beyond sensitivities to find out about her mother.
The author managed to keep me guessing about Dovie and her mother's past. I can usually figure out the mystery of a story but this one I was surprised with what Dovie uncovers. I was also surprised as to what Karlina uncovered about Anton. This made for a very interesting read.
I throughly enjoyed all the scriptures through the book. Some that inspired me to claimin my daily life.
I highly recommend this book.
I rated this book a 5 out of 5.
Disclosure
I received a copy of this book for review from the author. I was in no way compensated for this review.
It is my own opinion.