Wildflowers from Winter by Katie Ganshert
A 2013 Christy Award Nominee
Contemporary Romance SERIES, SEQUELS, AND NOVELLAS
About Book
Like the winter, grief has a season. Life returns with the spring.
A young architect at a prestigious Chicago firm, Bethany Quinn has built the life she dreamed of during her teen years in a trailer park. An unexpected interruption from her estranged mother reveals that tragedy has struck in her hometown and a reluctant Bethany is called back to rural Iowa.
Determined to pay her respects to her past while avoiding any emotional entanglements, she vows not to stay long. But the unexpected inheritance of five hundred acres of farmland and a startling turn of events in Chicago forces Bethany to come up with a new plan.
Handsome farmhand Evan Price has taken care of the Quinn farm for years. When Bethany is left the land, Evan must fight her decisions to realize his dreams. But even as he disagrees with Bethany's vision, Evan feels drawn to her and the pain she keeps so carefully locked away.
For Bethany, making peace with her past and the God of her childhood doesn't seem like the path to freedom. Is letting go the only way to new life, love and a peace that she's not even sure exists?
Release date:
May, 8 2012
Publisher:
Waterbrook Press
ISBN-10:
0307730387
ISBN-13
: 978-0307730381
Where to buy:
Amazon
Barnes & Noble
ChristianBook.com
Wildflowers from Winter by Katie Ganshert (Chapter 1 Excerpt)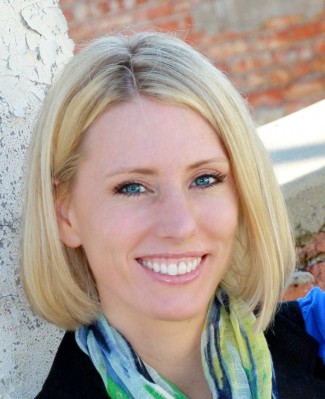 About Katie
Katie Ganshert was born and raised in the Midwest, where she writes stories about finding faith and falling in love. When she's not busy plotting her next novel, she enjoys watching movies with her husband, playing make-believe with her wild-child of a son, and chatting with her girlfriends over bagels. She and her husband are in the process of adopting from the Congo.
You can find her online at
her blog
and on
Facebook
.
Wildflowers from Winter: A Devotional
He led you through the vast and dreadful wilderness, that thirsty and waterless land, with its venomous snakes and scorpions. He brought you water out of hard rock.
-Deuteronomy 8:15
I met a woman once who lived in Kibera, the biggest slum in subSahara Africa. She slept in a tiny shack with six kids, three of whom weren't her own. Her husband had left. She was sick with AIDS. Yet she was lit from within, beaming with the hope of Christ.
If I close my eyes right now, I can see her. And most likely, five years later, she's no longer sick. She's no longer living in a shack. She's rejoicing with the One who gave her that hope.
I have a friend who struggled for three years with infertility. She and her husband were faithful and obedient to the Lord. So why wouldn't He give them the child they yearned for? They had no idea God was using that time to lead them down a different path. A path toward adoption. A path toward their daughter.
When I think of that African woman, when I think about my friend, I picture wildflowers.
Do you know the harshest, snowiest winters produce some of the most beautiful wildflowers in the spring?
I love when truth reveals itself in nature.
Because this is truth.
God uses what the human eye sees as cold and harsh and lifeless, to bring about beautiful things. Breathtaking things.
Like a once-snowy field bursting with wildflowers.
Like an infertile woman who realizes she doesn't have to get pregnant to be a mother.
Like a woman riddled with sickness, steeped in poverty, yet beaming with hope.
Lord Jesus, thank you for being a God who can redeem the most barren times in our lives. Thank you for being a God who brings beauty from pain. Help us to trust You, no matter our circumstance or season. Help us to trust that You are faithful and You are good.
Are you trusting God to bring water from the hard rocks in your life?
My Thoughts
Bethany Quinn is a fortress until disaster strikes. That is when the memories of her tortured soul comes creeping out. All she wants to do is push past memories back so she can continue with her successful career in Chicago as an architect.
She is no longer the penniless, pitiful little girl of her youth. The memories she refuses to think about are as if they were yesterday. The only pleasant memory she has is of her loving grandfather, Dan and her best friend, Robin. She has not seen them in ten years.
While Bethany is busy at work her cell phone rings and it is her mother whom she has no desire to speak with. But the calls become persistent and so she calls her mother back. Her mother tells her that Robin's husband was in an accident and is in a coma. The doctor gives little if any hope. After fighting the old memories and debating whether or not to go be with her friend she receives another call. A man by the name of Evan Price calls with the bad news that her grandfather has had a heat attack. Her decision has been made, she has to be with her grandfather. While she is there she will consider visiting her old friend.
Arriving at her grandfather's farm there is a man she assumes as Evan Price standing in the doorway. Come to find out he has been hired to help work the farm. He looks worn out and as if he hasn't slept in days.
As the story continues it gets more stressful for Bethany and Evan. They have been thrown together and are not too happy about the situation. It seems they both have their own demons to deal with. One of them has a strong relationship with God but the other does not acknowledge God at all.
If we keep sliding away from God, He sends his disciples to help nurture the seeds that had been planted in order that we can grow toward Him and away from our the demons we created in ourselves.
I want to share this from the book.
"The rational part of Robin's brain knew better. But grief had obliterated her ability to think rationally. Grief was the royal flush in a hand of poker. It beat everything."
Have you been there before? I know I have.
This is a soul searching story of reconciliation, repentance, faith, hope and love.
The first part of this book is one traumatic event after another. It even began to traumatize me.
But you have to know it was very well written. Had to be the way it had me all worked up. When you are reading this book just be sure to have some tissues close by, you will definitely need them.
I highly recommend this book.
I rated this book a 5 out of 5.
Disclosure
I received a free copy of this book for review from Waterbrook Press. I was in no way compensated for this review. It is my own opinion.